Desiree Cardoso of
Narconon Arrowhead
recently taught the first ever college course for continuing education units that is based on the drug rehab program developed by
L. Ron Hubbard
. Here's a photo of the graduates.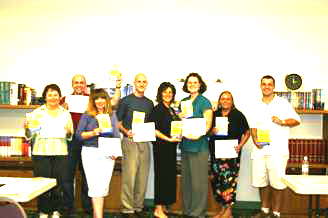 The college where this continuing education in drug rehab technology is being taught is Eastern Oklahoma State University. Apparently three courses have been accredited where counselors can come and be trained in workable drug rehab technology.
I have several friends working at Narconon Arrowhead. They do an incredible job of getting people off of drugs. If you are losing a loved one to drugs, I invite you to call them at 1-800-468-6933.
The first course, according to Desiree, is a course where they unlearn some of the things that they've been taught about drug addiction. One of the first things they learn is that it is not a disease. Then they learn the real handling for drug addiction.